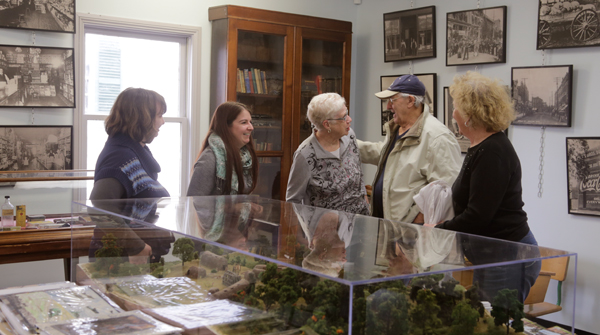 Lynde House Museum held special tours and programs on March 16th for families during March Break. Families enjoyed tours of the museum with tour guides leading guests through the rooms and telling interesting stories about some of the artifacts displayed. Inside the Visitor Centre children enjoyed crafts with volunteers.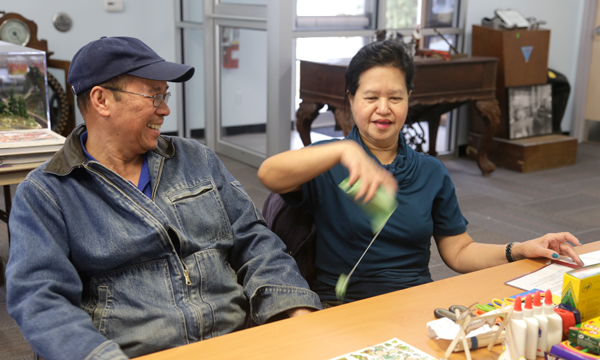 Volunteers Lillian and Igncio Detablan demonstrated some heritage crafts and games for children.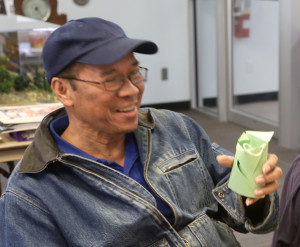 This game consists of a handmade paper cup to which a string is tied and a small weight. It looks easy to get the weight into the cup, but it isn't so. Lots of laughs later, Ignacio masters this game enjoyed by children of yesteryear.
Ignacio needs no practice in the art of origami paper folding however. He wowed everyone with several beautiful designs.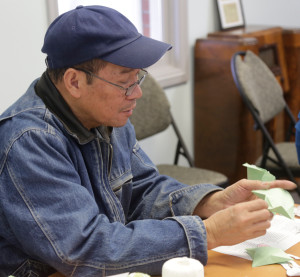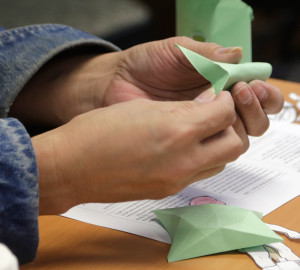 Volunteers were kept busy as the parking lot had a steady stream of cars carrying visitors anxious to tour through Lynde House. People can call ahead and enjoy a tour almost any day the museum is open. See http://lyndehousemuseum.com/events-schedule/ for events with a special focus. The March break event had a St. Patrick's Day theme with green being the colour du jour and 'sprigs of Irish luck' hidden amongst the artifacts just to make things interesting.
The Visitor Centre is open five days a week, Tuesday through Friday from 10:00 am until 4:30 pm and Saturdays from 11:00 am until 4:00 pm. Group tours for Brownies, Girl Guides and Red Hat Society groups have enjoyed tours.
I think the volunteers had every bit as much fun for March Break as the visitors as they joked about re-living memories and playing a game of Dominos.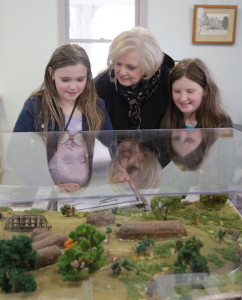 One of the highlights of the day was the Joseph Picard Archaeological tabletop display model of a First Nations settlement discovered at a dig near the development of the 407 hwy. Shown here are Abby and Olivia with their grandmother Lynne, some of the visitors to the museum.
It is said that almost 400 First Nations people called this particular settlement 'home' many years ago. The model shows 'long houses', a slice of what life might have been like with even a garden plot where corn is growing. The area shown in the model was lush with green forests full of wild life such as deer.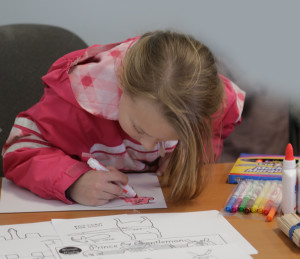 Children also enjoyed colouring and cutting out specially prepared heritage clip art and making paper dolls. Even in this technological era, old fashioned crafts still delight. Of course there were snacks on hand of cookies and juice for children. Thankfully we can enjoy our modern juice boxes for convenience...
We wish to thank Kirstyn Allam, Executive Director and Monica Effenberger, Intern, for planning this event and all of the volunteers who participated in making this a fun day for everyone.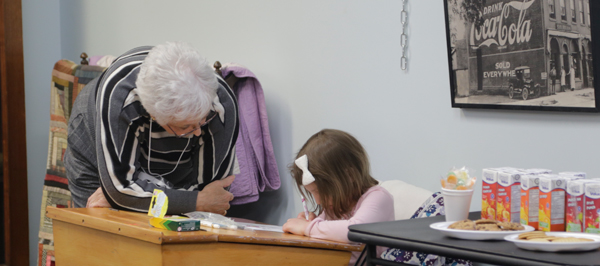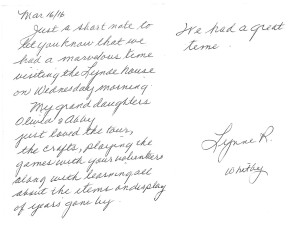 Thank you Lynne for your lovely card, glad you and your granddaughters had a good time!
Blog and photographs
by: Trina Astor-Stewart, VP Whitby Historical Society