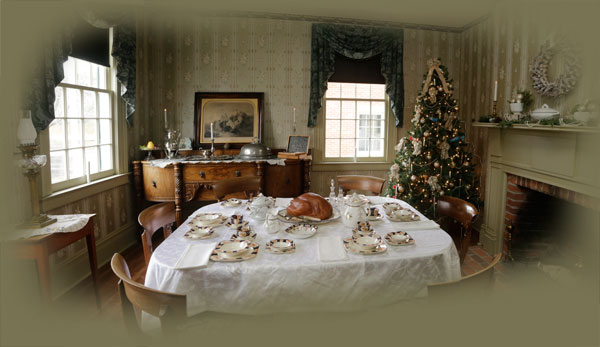 The table was set, candles were lit, fragrance of roast turkey wafted through the dining room as if to say... "Welcome to Lynde House, imagine Christmas might in the Victorian Era".
It all started with some research into what a Victorian Christmas might be like.

Here are some ideas we found for inspiration.
"Christmas ornaments (sold in stores) in the 1870's included butterflies, crosses, diamond, and lead stars created by Nuremberg toy makers, blown glass ornaments (Kugel) from Lauscha, Germany, and wax angels, animals, and Christ child dolls. merchants sold celluloid toys, soldiers, dolls, and birdhouse ornaments. A factory in 1875 manufactured silver foil icicles. In 1880, Frank W. Woolworth began selling blown-glass ornaments, and angel hair became available. Between 1880 and 1910, Dresdin manufacturers created glass ornaments, and gold cardboard camels, storks, peacocks, pianos, and sailboats and were used for Christmas decorations. In 1890's cotton was added to angels and santas." The Guide to Popular Culture edited by Ray B. Browne & Pat Browne.
We hope you enjoy these images from tours at Lynde House Museum 2016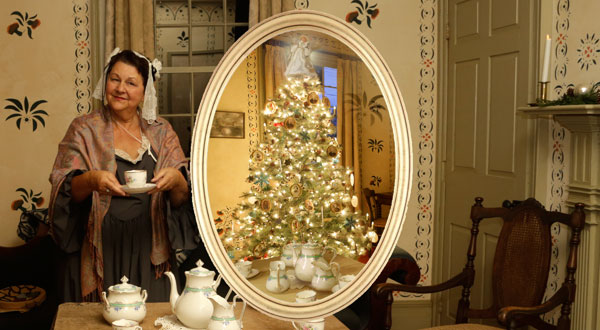 When the Lynde family lived here, they most likely would have gone into the woods behind the house to cut a real Christmas tree and also make wreaths and boughs.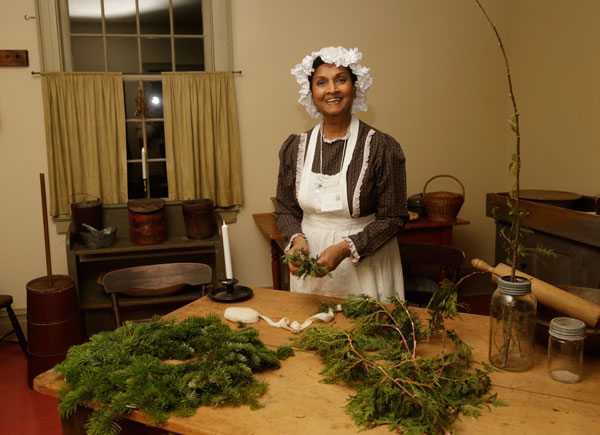 The original Lynde House kitchen was not part of the main structure and was destroyed by a fire years ago. The kitchen is now located in the south-west corner room.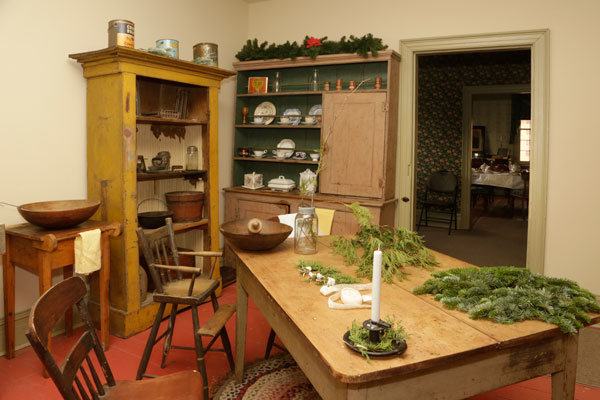 Some Victorian Trees were placed on top of tables. Queen Victoria & Prince Albert - Decorate Christmas Tree, Illustration from Godey's Lady's Book, December 1860.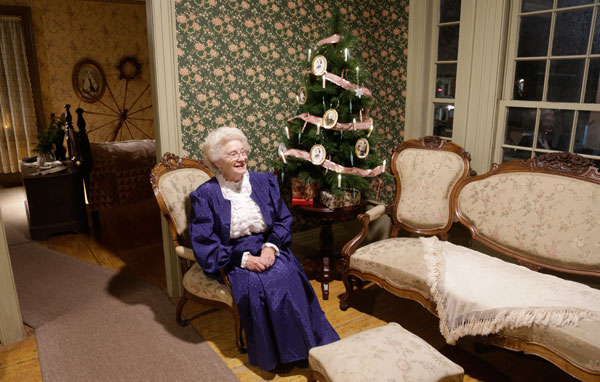 The upstairs parlor at Lynde House fills the area where the large front window looks out onto Brock Street South in Whitby. The parlor suite is called the Prince of Wales suite, come visit and find out why...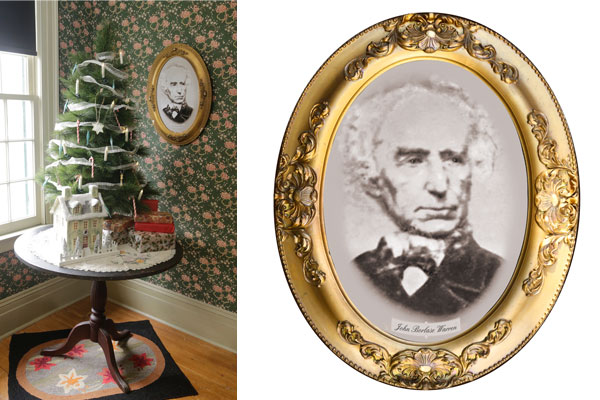 This year at Lynde House Museum the Christmas Tree theme was the Lynde Family and so ornaments were created using old fashioned frames with some Lynde Family portraits inside. These were photographed, printed and then cut-out. The two large gold frames used were donated by a friend of David Chambers for the 'teaching collection' and enlargements were printed. One of Clarissa Lynde Warren, a daughter of  Jabez Lynde and one of John Borlaise Warren (sister and brother in law) to hang in the house. Miniatures of other family members were used only on some of the trees. The Lynde Family have a fascinating history and story, why not visit and hear more.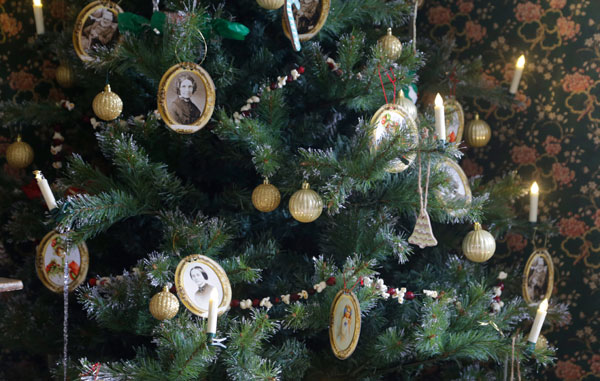 Other Victorian art images were also used to add colour. The reverse of all the ornaments were embellished with sentiments of the season such as, Peace, Joy, Kindness, Family Values, etc.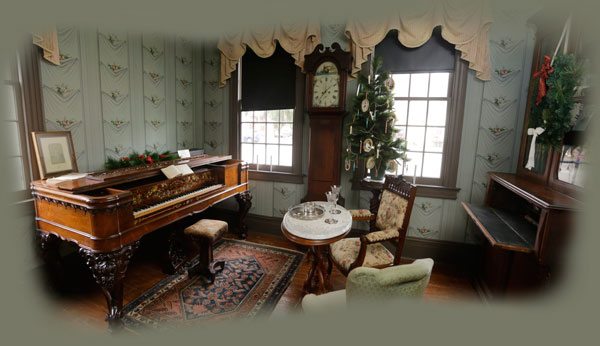 The Victorian Period was known for its over the top décor. "Twinkling lights hung on fragrant boughs, laced with golden antiquities; garlands strung from the mantle, framing a glowing fire of crackling pinecones." The very first strand of electric lights were used during the Christmas season of 1880.
Candles on the Christmas tree were often real; however, in our 2016 décor we were able to purchase real-looking rechargeable battery operated candles thanks to the Bingo funds through Pickering Charitable Gaming Association Delta Pickering. Many of the other decorations were also purchased through Bingo funds. Volunteers and staff had a lot of fun arranging and decorating.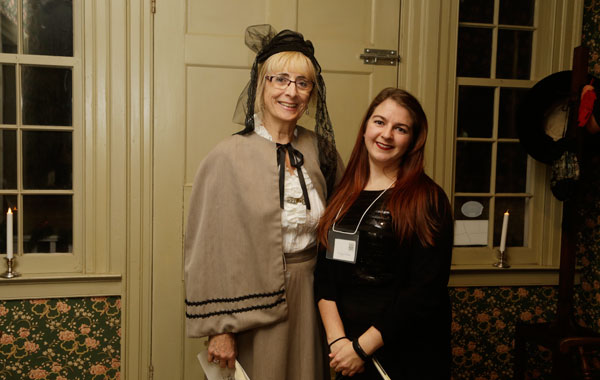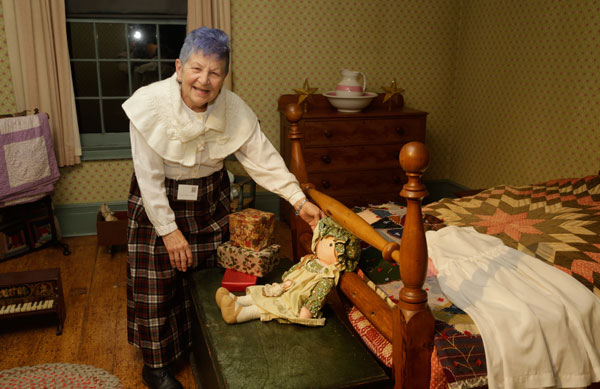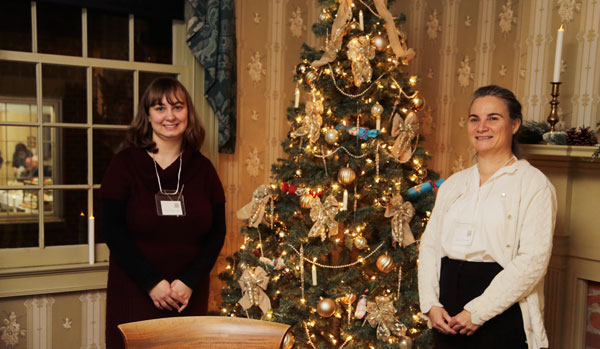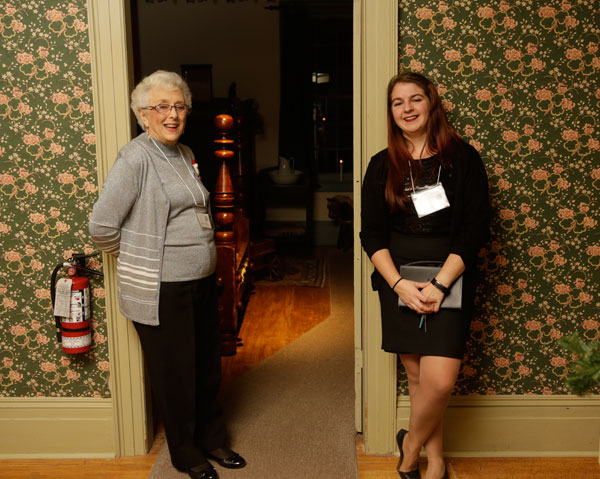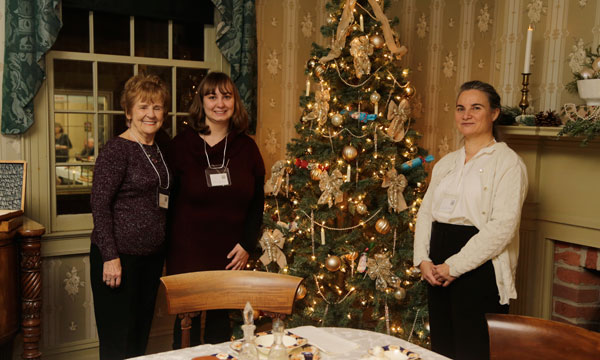 Many thanks to all who participated in events during Christmas at Lynde House Museum. To our donors, staff, volunteers, and board members a hearty thank you!

Blog and photographs: (minus -Old Fashioned Christmas images reminiscent of the Victorian era) Trina Astor-Stewart