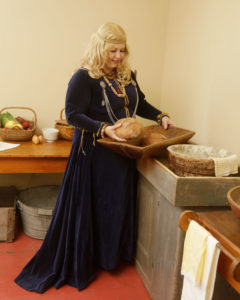 Historica by Lianne
A presentation by Lianne Harris was given on  Thursday, April 13th, 2017. Everyone always enjoys the programs by Lianne they are both informative and fun!
More about Lianne Harris Social Studies Resource Specialist. 
Lianne Harris presented an Easter Program at Lynde House Museum Visitor Centre. Her program focused on the Vikings and their input into our culture. As always it was an interesting program which tied in the Easter story and how the Easter Bunny began as a Viking tradition.   Lianne Harris' presentations are always well attended and enjoyed. Everyone enjoyed her costumed interpretation of a lady Viking. Did you know that the Vikings actually started the insurance business? Photo: Lianne Harris demonstrates the importance of bread to Vikings in the Lynde House kitchen.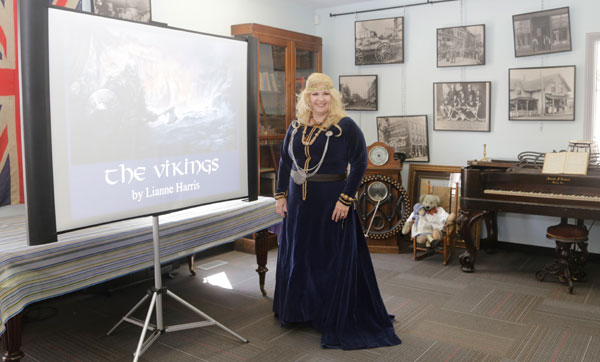 Lianne Harris Racioppo is a social studies resource specialist with the Toronto Board of Education (TDSB). Lianne is known for her entertaining and educational programs for all ages. Lianne is shown above in the Visitor Centre at the start of her presentation.
```
Children's Easter Egg Hunt at the Museum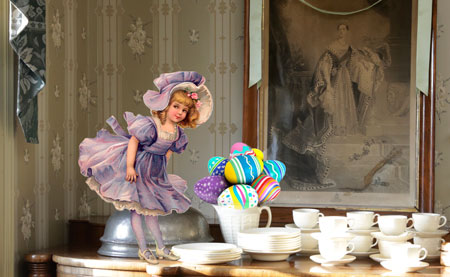 A Children's Easter Egg Hunt was held at Lynde House Museum & Visitor Centre on Saturday, April 15, 2017 from 11:00am until 4:00pm.  Children accompanied by parents were invited to go on a tour through the rooms of Lynde House Museum. Children excitedly searched for the hidden eggs in each room giving parents a chance to enjoy the new Spring Tea displays.  Children were given pictures of the rooms and they used these to draw in the position of the eggs (in rooms) on the photos. After the tour, children received their Easter treats as an award in the Visitor Centre. Every child was a winner! The museum was a very busy place in deed as double the number of participants came that did last year!
Event was Sponsored by an Anonymous Donor through,
Durham Community Foundation
```
Monday, April 24th, 2017 – 6:30 to 8:00pm - The museum was reserved for
A Special Pathfinder Girls Tour. The girls are studying Canadian Citizenship at the moment and were given a presentation which told the stories of our early settlers, First Nations People and all the countries of origin that make up the Patchwork Quilt that is Canada. The girls and their leaders enjoyed the presentation. Special thanks to volunteers, Barb Haug, Denise Lagundzin and Trina Astor-Stewart for putting on the presentation. Afterwards the girls toured the museum and they were delighted with the new displays. One girl commented that some of the items on display would help her with her school projects as they were studying WW1 and WW2 history. The girls loved the new display room upstairs were some of the artifacts were gently handled in white gloves in order to show the girls a close up look.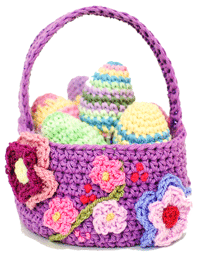 This months craft project was a delightful Easter Egg Crochet Basket
Love to Crochet Free Pattern
For more events at the museum, please go to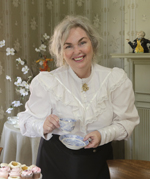 Blog by: Trina Astor-Stewart, Executive Director, Lynde House Museum