Now how do you plan an Easter Egg hunt in a museum?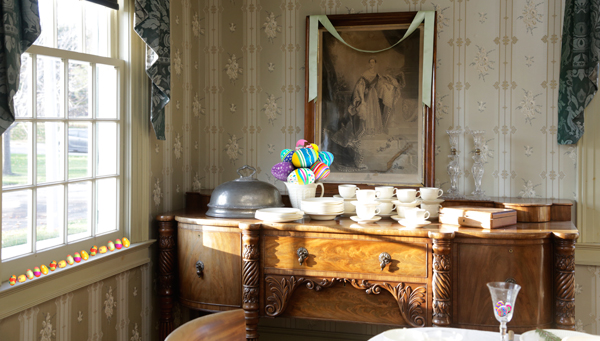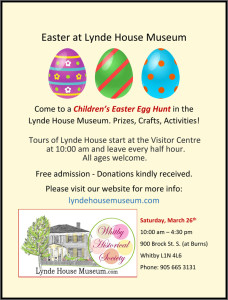 The artifacts are untouchable and little fingers, well, the idea of it all seemed just a little too much to handle. With all of us nostalgically imagining children out on the lawn rolling eggs with spoons, Victorian-like.
Practically speaking,  this seemed a little risky given that Easter this year was in March and weather most likely would not  cooperate.
Somehow, we thought it important to find a way to let children celebrate inside the museum,  sure that they would be using their very best manners.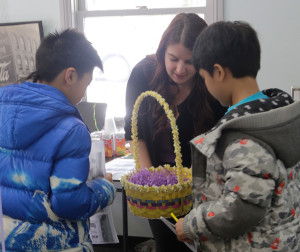 So though there was no possibility of rolling eggs with spoons on the lawn our Executive Director, Kirstyn Allam, inspired her team of volunteers to come up with a novel solution. Posters announcing the event were printed and placed in town as well as through social media. Word got around and children brought by parents and grandparents lined up to find the eggs in Lynde House.
To create the 'hunt' pictures of each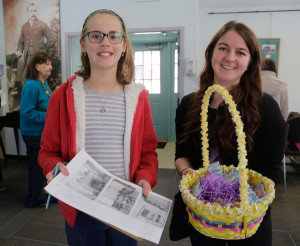 room in Lynde House were printed out to give to children. On Easter Saturday volunteers pretending to be the Easter Bunny placed colourful decorated eggs among the artifacts in each room. Pictures and pencils in hand, children were then asked to draw on the photographs to indicate where the eggs were found.
Voila! A lot of fun to be had, with real chocolate Easter Eggs given out afterwards at the Visitor Centre where children could continue having fun colouring, doing crafts and playing vintage games.
Children of all ages loved it as you can see in the photograph below of museum volunteer, Denise Lagundzin holding her granddaughter as they watched children making craft bunny rabbits at the Visitor Centre.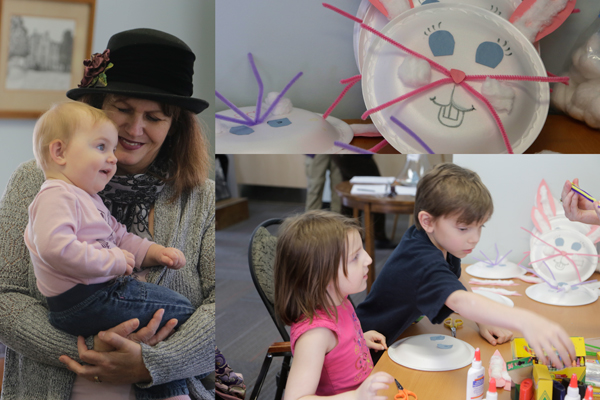 It was a fun day for everyone and a Lynde House Easter to be remembered.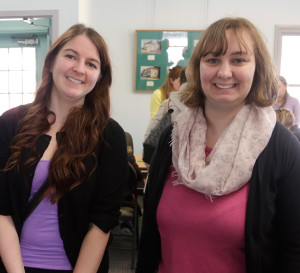 Thank you to those involved in planning and working on this most enjoyable event listed below:
Pictured on the left, Kirstyn Allam, Executive Director, poses with   Monica Effenberger, Intern from Centennial College. Monica has been a wonderful addition to so many things during her internship and is working on a new display for one of the Lynde House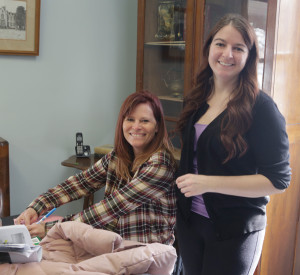 bedrooms.
Lauri Geuzebroek, is pictured on the left with Kirstyn getting a craft ready for colouring. Lauri is a local history teacher, who loves Whitby History and regularly plans field trips for her students to discover Whitby's "Fabulous history"! Lauri is a regular volunteer and is looking forward to working on more research with WHS at Lynde House Museum.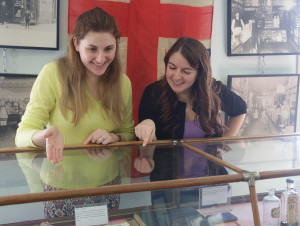 Anastasia Balaceanu admires some artifacts in a showcase with Kirstyn.  Anastasia is from Queen's University participating in her Practicum Experience placement with Lynde House Museum prior to her graduation as a teacher. We wish Anastasia well and hope she finds a teaching position in Whitby since she loves volunteering at Lynde House Museum.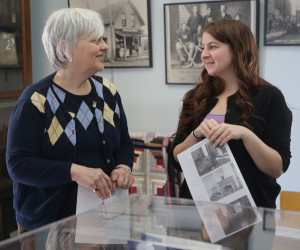 Special thanks to all our volunteers from the Tour Guides Teams who manned the museum for Easter Saturday: Halima Bacchus; Mary Prettie-Elliott; Audrey Atkinson; Ruth Edwards; Sonja Federchuk; Diane Carson; Joany Burtinsky;  Lilian and Ignacio Detablan.
Something is happening all the time at the museum, we aim to have a program led museum full of interesting activities as time goes on. WHS appreciates all those who lend a hand and make this such a great place!
Blog and Photographs by: Trina Astor-Stewart VP, Whitby Historical Society.