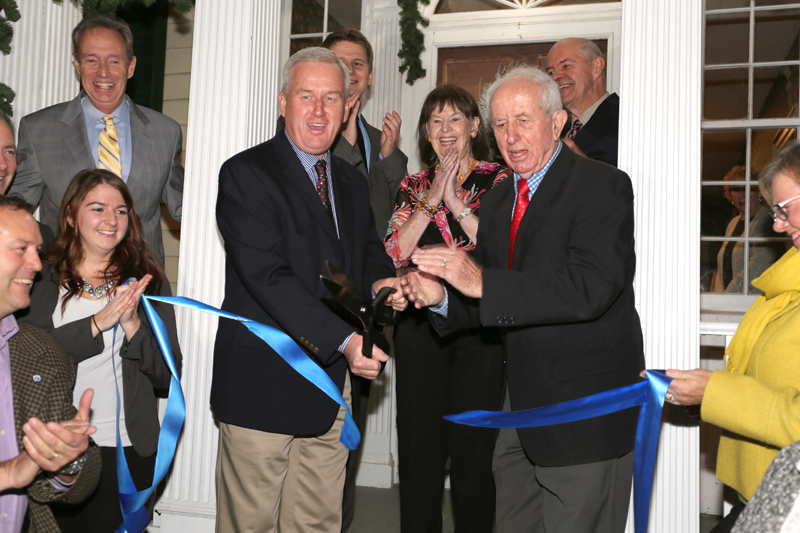 The long awaited Grand Opening of Lynde House Museum took place on November 24th 2015. Almost seventy people packed themselves into the Visitor Center next door to Lynde House for a program of guest speakers followed by an official ribbon cutting on the veranda of Lynde House, and a presentation from the Whitby Chamber of Commerce followed by a tour of the house and a 'musicale' evening with refreshments back at the Visitor Centre.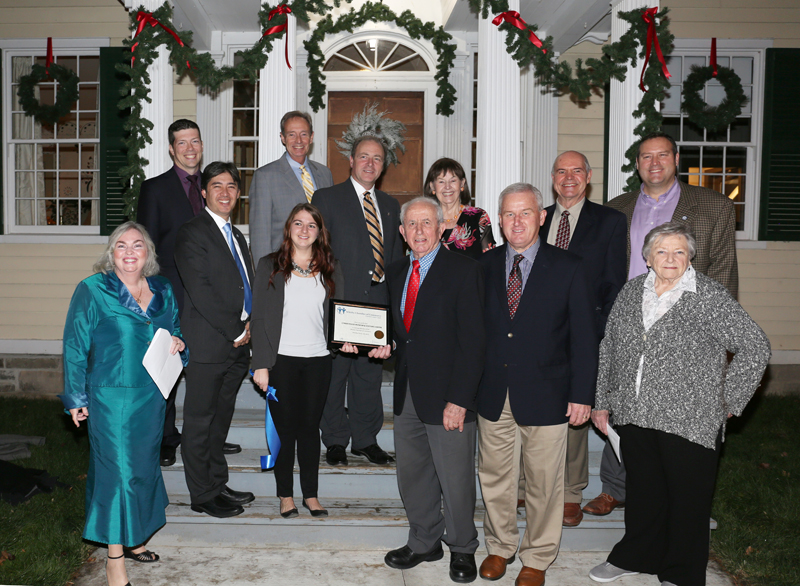 It was a fun evening with everyone feeling really good to see Lynde House open again as a museum after its move from Cullen Park in 2013. The whole town, it seems, came out to watch this historic trek of a much loved house through downtown Whitby to its current location at Brock Street South at Burns. People will be happy to know that the Lynde House Visitor Center will now be open Tuesday to Saturday and tours of Lynde House will be scheduled. Ongoing updates at the Lynde House Museum website.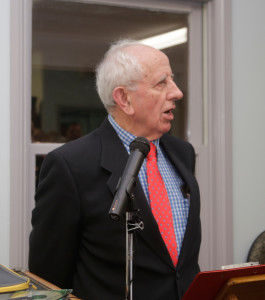 A Welcome was given by ~ David Chambers, President, Whitby Historical Society, "I am delighted Whitby has a permanent museum to display many historical treasures collected over the years," said David Chambers. He said, "It is a little like Moses wandering in the wilderness and now we have come home."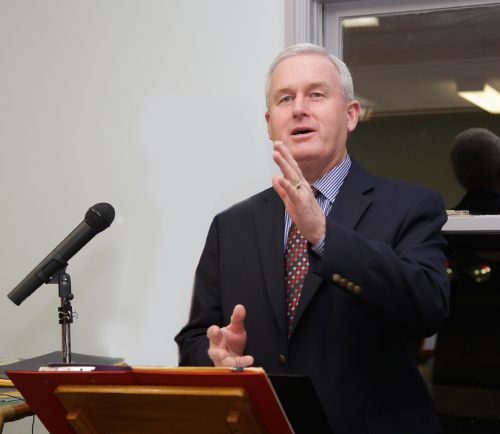 Greetings were given by, His Worship Don Mitchell, Mayor of the Town of Whitby "We have much to be proud of in terms of our citizens and our history," he said. "The Lynde House serves as a gateway into downtown Whitby and is a fine example of our Town embracing the future while respecting our heritage." Mayor Mitchell also read greetings from Sue Green, daughter of Len Cullen former owner of Cullen Gardens where Lynde House was included in many tours over the years. Mayor Mitchell began by saying how Len Cullen had played a major role in the saving of Lynde house and then read what Sue Green had written, " I am so pleased that Lynde House is now in the center of town. My father would be very pleased!  ...It was a pleasure to be a part of the safekeeping of this old house and wonderful to see what the Town, the Town Council,  Whitby Historical Society and Kirstyn Allam have done to continue this legacy."
Congratulations were given by  Liam Nichols on behalf of Celina Ceasar-Chavannes Liberal MP for Whitby, Ontario, saying, ..."How pleased they all were for this opening and wishing success for years to come".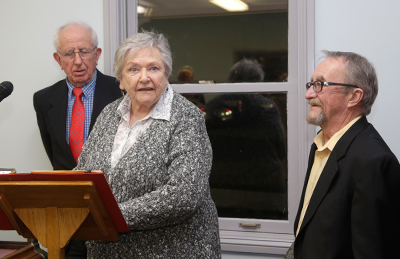 Edith Alger, Board Chair of the Durham Community Foundation talked about the work of the Foundation with best wishes for WHS in years to come. Howard Smith, was also at the event representing the Durham Community Foundation.
Members of the Board of Directors of the Whitby Historical Society were introduced by vice president, Trina Astor-Stewart, saying, "Tonight is a blessing, the culmination of taking many leaps of faith over the last few years. Now here we are at a new beginning The Lynde House Museum and Visitor Centre. I would like to introduce you to the power of five! The Whitby Historical Society board of directors are five people who had a vision. David Chambers, President; Breck Stewart, Secretary; Monica Lawlor, Director; Gloria Murkar, Director and myself, VP. We stepped out not knowing if we would have the funding to go forward and then two miracles happened. The Town of Whitby asked the Society to operate Lynde House Museum and an Anonymous Donor through the Durham Community Foundation trusted the vision enough to give us a very generous donation. So now we are stepping forward again into a bright new future with appreciation".
Each board member then gave part of a presentation thanking those who have been instrumental in the success of this project.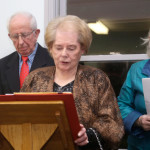 Gloria Murkar, Director, began by saying, "On behalf of the Whitby Historical Society I wish to thank the Town of Whitby for asking us to operate Lynde House Museum. Thank you for all of the work everyone at the Town has done. We know you are as proud of Lynde House Museum and what it means to our community as we are."
Followed by By Monica Lawlor, Director, "On behalf of the Whitby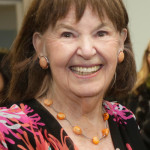 Historical Society I wish to thank The Durham Community Foundation's Anonymous Donor. Many people have devoted their time and talents to creating a museum with heart, and now because of you we can continue the legacy and be even better than ever before. I would like to thank Snyder Construction and their crew who have been working so diligently to create this beautiful space. I would like to thank all of the wonderful volunteers who signed up to give their time and talents. When I talked to them about our vision to create teams, they saw it and wanted to get on board. We would also be remiss if we did not mention Margaret Boyce's contributions as Past President along with that of her husband, Bernard Boyce. Their son, Graeme Boyce, and his family are present here this evening to share in this occasion."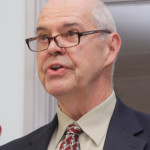 Breck Stewart, Secretary continued by saying, "I would like to thank David for his role in shepherding the collection of artifacts through the last few years. It shows his strength of character, many would have given up. David has inspired us all, he rolls up his sleeves and gets the job done. Getting this project off the ground has felt like, 'A few fish in a tank, who looked quizzically at each other and quipped, "How are we going to drive this thing....' Over the last few months while putting all of this together I have watched everyone pull through obstacles and work together. I would like to thank Monica for recruiting so many wonderful new volunteers! Some of you will work as our new stars, some will work in the background in supportive roles; we need you all to make this the best it can be. It is going to be fun seeing what all of these teams of volunteers can do."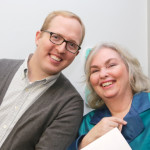 Trina Astor-Stewart followed by saying, "I would like to thank Michael Penney of Penney & Co. and his team for pitching in when this whole place was just a mess of boxes. The beautiful touches on the décor are inspired, no wonder the Marilyn Denis show came to do a feature here that will air this Thursday. I would like to thank Kirstyn Allam for being every bit the person we thought she would be when we hired her. She has done an amazing job of liaising with the Town during the construction, unpacking boxes and putting together an epic puzzle of very valuable bits and pieces; scheduling volunteers to help cover all the bases, while at the same time managing to learn and adopt our core vision. It has not been easy! I would like to thank everyone here, because in too many ways to mention, you all had a hand in the success of this dream. Lynde House, has come home."
David Chambers, thanked everyone with these remarks, "I would also like to thank everyone who helped to make this dream become a reality. And also give mention to Brian Winter who is here tonight, for his fine contribution over the years. Without further ado I invite everyone to follow the Mayor and myself to Lynde House where we will cut the ribbon and begin the first official tour of the Lynde House Museum. Then join us back here afterwards for some music and refreshments." A presentation by the Whitby Chamber of Commerce who provided the ribbon and large scissors for the ribbon cutting. See above group photograph.
The first Official Tour of Lynde House Museum was led by Kirstyn Allam, WHS Executive Director.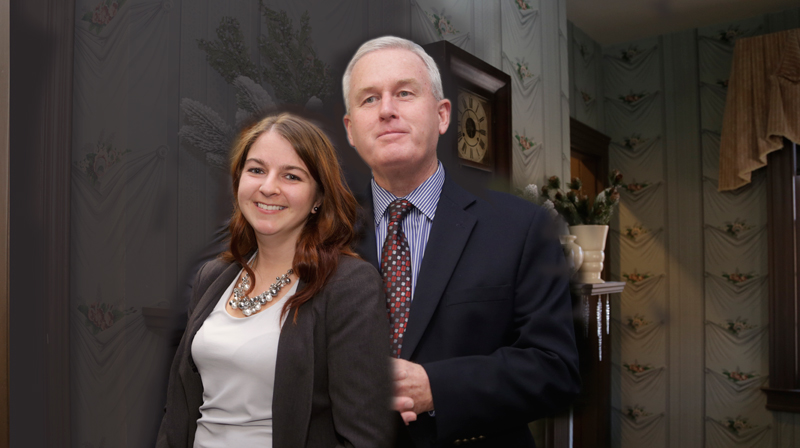 Kirstyn introduced Mayor Mitchell to the WHS Volunteer Tour Guides pointing out various artifacts of interest in the house. Mayor Mitchell was particularly fascinated with the prize winning 1860's Joseph F. Rainer Piano made in Whitby on display in the music room. Mayor Mitchell took a photograph of the piano and later posted it on Facebook.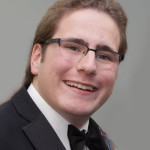 The evening continued at the Visitor Centre with music by, Mitchell Daniels, who thrilled the gathering with his songs chosen for the occasion. Everyone enjoyed the tasty and beautifully presented refreshments by Monica Lawlor and volunteers.
Everyone had a great time!
Special thanks to: Paul Stiles, Director and Cinematographer, Stiles Creative Technologies Inc. and WHS volunteer Denise Lagundzin for taking these photographs during the evening.
Blog and photo-editing, Trina Astor-Stewart. Please enjoy more photographs below.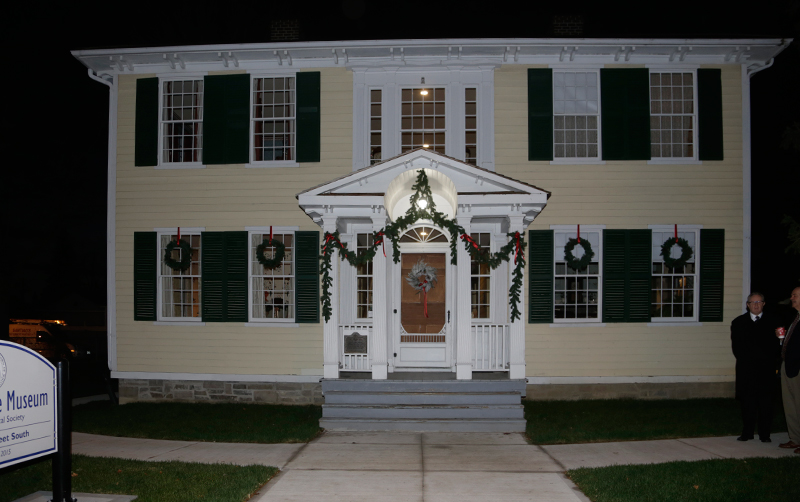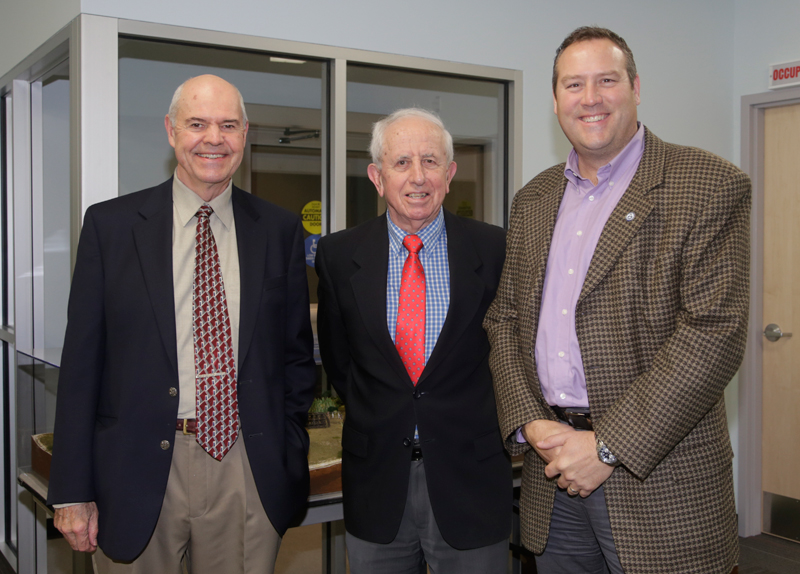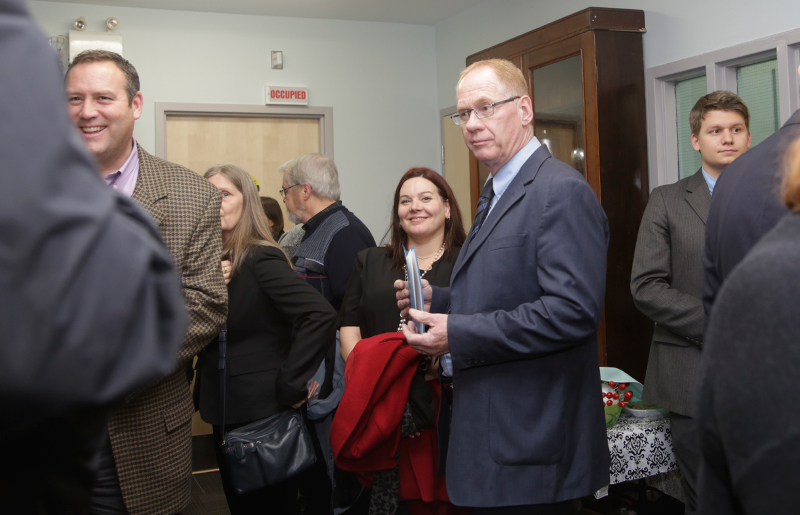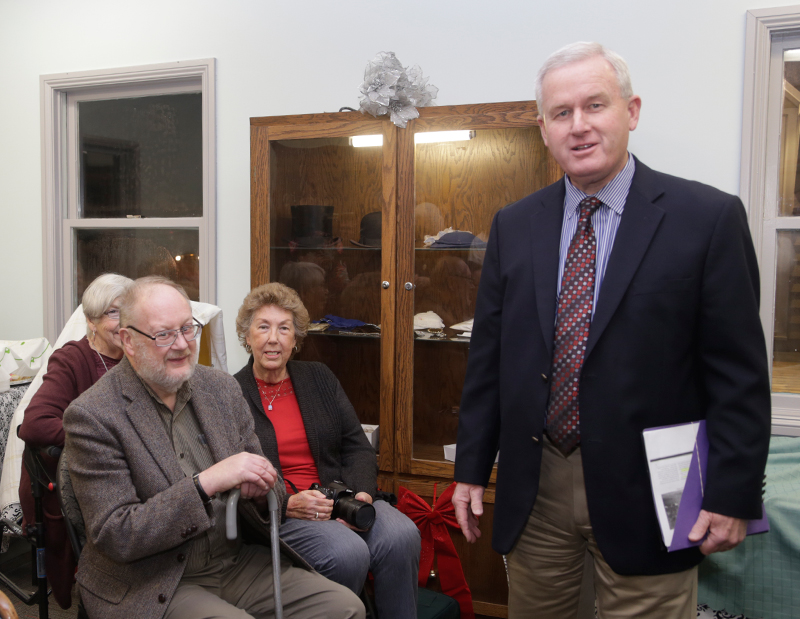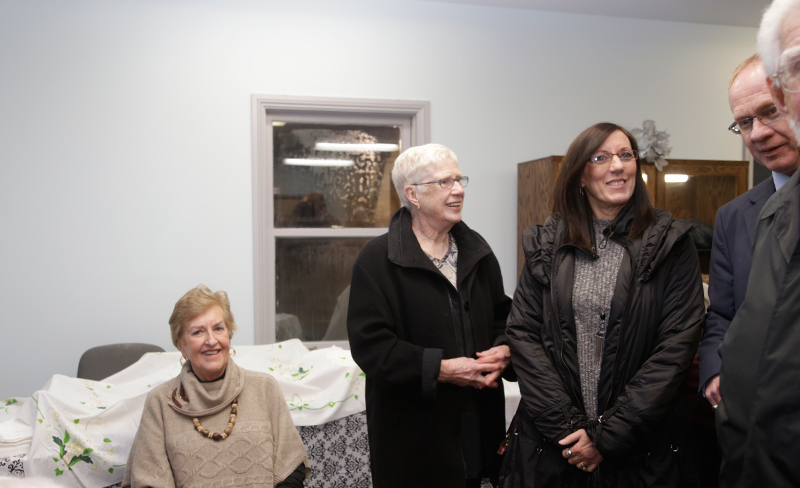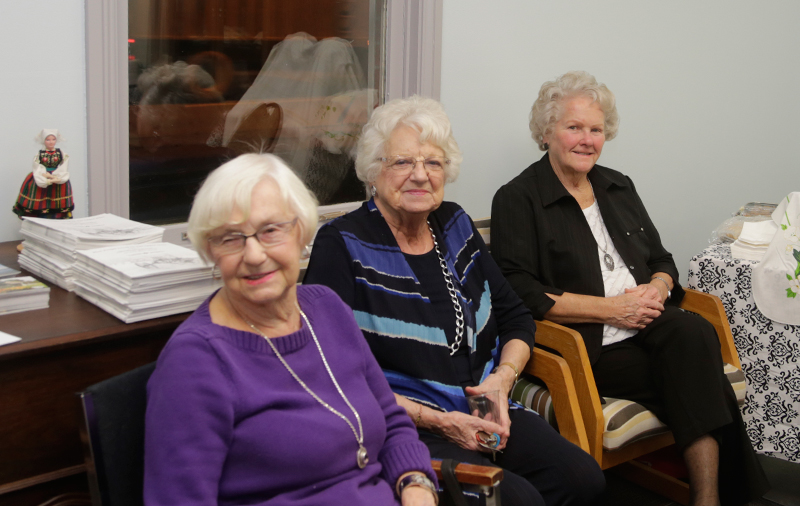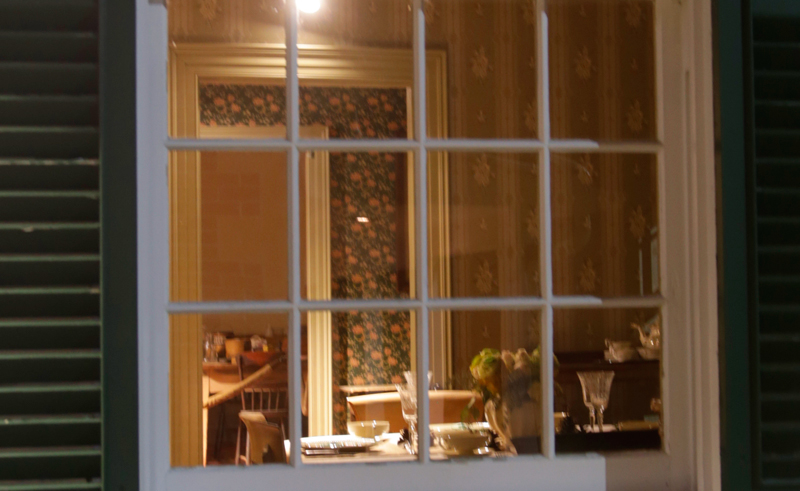 Looking into the dining room window of Lynde House just before the tour. The table is set, Lynde House welcomes visitors once again!
Read the Town of Whitby Blog post by Heather Roseveare, Corporate Communications Officer by clicking on this link.