Magical lights in Lynde House windows drew visitors to events scheduled every weekend from November 24th to December 23rd.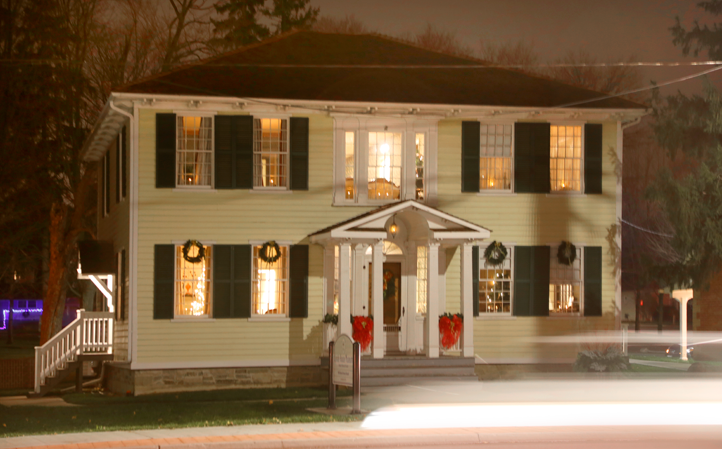 Christmas at Lynde House Museum as advised by everyone we met and talked to just had to be the very best yet... "You must pull all this off, create a wow", while at the same time representing an authentic Victorian era Christmas. But how? We all wondered. Beyond creativity and hard work by all our volunteers,  it takes money! Fortunately for Whitby Historical Society members who steadfastly volunteer at Bingo, Pickering Charitable Gaming Association Delta Pickering, there was enough 'green stuff' to magically transformed itself into a white glittering candle-light Christmas at Lynde House Museum & Visitor Centre at 900 Brock Street, Whitby ON.
Whitby Historical Society, Board of Directors, Staff and Volunteers sincerely wishes to thank Pickering Charitable Gaming Association Delta Pickering.
Read all about Christmas events and Lynde House Museum here.  Only our second Christmas season after opening November 2015 all eyes were upon us to bedeck the halls of Lynde House with a Victorian era theme using all the research at our disposal together with imagination of what a Lynde Family Christmas might have been like. Or at least a representation spanning time that would have met with, let's say, Clarissa Lynde's approval while at the same time enthrall and delight visitors. Lynde House was originally built by Jabez Lynde.
So here is what happened, we hope you will be pleased with this account as much as the many visitors who came to see and enjoy.
It all started with the trees lit with real Victorian candles, and long tapers in every window and on mantles re-creating the candlelight magic of old. Of course our 'real candles' though looking all the part, were in fact powered by re-chargeable batteries to satisfy the most exacting fire marshal. Wonderful to be able to portray the old days, with the safety of up to date technology! Read on to find out about events that happened and then go to another blog with photographs about Christmas Tours at Lynde House Museum.
November:
A Volunteer Social & Meeting was held Thursday, November 10th at Saint Andrew's Presbyterian Church Hall - 11:00am to 4:30pm where volunteers baked natural spice scented, non-edible gingerbread cookies which they also painted to hang on Christmas trees at the museum. Volunteers also participated in other crafts such as making popcorn and cranberry wreaths and clove decorated oranges. Many hands made light work and all the decorations were used in the museum. Invitations were also prepared to be sent out for the first anniversary opening of Lynde House Museum.
Decorating the Museum began in earnest with a major re-organization of rooms and settings on November 15th ...decorating always begins with a good cleaning and organizing.  Many thanks to the four guys from Rockbrune movers who came and did all the heavy lifting. Volunteers, staff and board members all pitched in to give the museum a big wow factor. Many thanks to all who helped! WHS also received a special addition to its collection that day, a beautiful 1860s mahogany crank operated extension table with two leaves from Clay Benson at Smith's Creek Antiques. Many thanks to funds from Pickering Charitable Gaming Association Delta Pickering which were used to purchase this table and also to move it to its new home at Lynde House Museum. This table was used during the as a big holiday table laden with treats and goodies to be tasted after events and will have many a use in the days ahead. Many thanks to our Hospitality Team for supplying refreshments during the Christmas holiday programs.
First Anniversary of Lynde House Museum opening at its current location on Thursday, November 24th 7:00pm with a Sneek Peek of Christmas Decorations for about seventy invited guests.
December: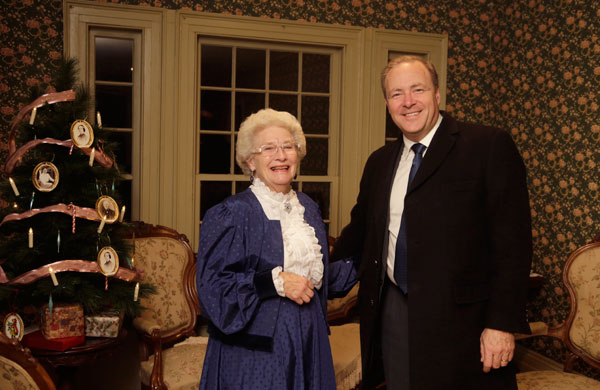 A Volunteer Christmas Social & the WHS Annual General Meeting was held Thursday, December 1st, 2016 11:00am to 4:30pm at Saint Andrew's Presbyterian Church Hall, 209 Cochrane St, Whitby, in order to accommodate all our members and volunteers. It was a great meeting and enjoyed by everyone. We welcomed two new board members, Denise Lagundzin and Rod Angevaare.
A Victorian Evening by Candlelight. Friday, December 2nd, 7:00pm – 9:00pm
Visitors met in the Visitor Centre and enjoyed the décor then toured Lynde House Museum by the light of flickering candles. Guests followed the magic carpet along and peered into rooms that looked as though someone from long ago was just there. Candles everywhere made the rooms so magical during the evening hours.
A Victorian Christmas at Lynde House Museum ...after the Santa Claus Parade. Guided Tours began at the Visitor Centre at 1:00pm, 2:00pm and 3:00pm. Daylight Tours took place all day Saturday, Dec. 3rd much to the delight of all who toured the museum.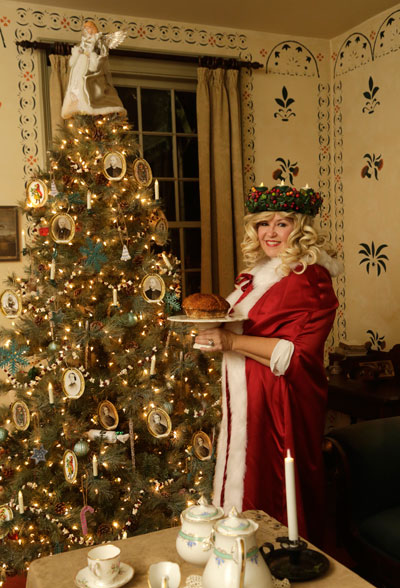 Christmas Stories and Symbols a delightful and informative presentation highlighting Christmas traditions of various cultures was given by Lianne Harris dressed as St. Lucia. Wednesday, Dec. 7th at 7:00pm.
Historical Happenings, Presentations by Lianne Harris, who is a social studies resource specialist with the Toronto Board of Education (TDSB).

Lianne is known for her entertaining and educational programs for all ages. She has numerous costumes fitting every presentation.
Museum guests enjoyed the slide show presentation by Lianne and enjoyed treats with a braided Challah bread made by Frantastic, as well as a gluten free multi-grain heritage loaf made by a volunteer and other home-made Christmas treats offered by the WHS Hospitality Team volunteers.
'A Night Before Christmas' – Friday Dec. 9th, 7:00pm – 9:00pm
Visitors joined two "A Night Before Christmas" tours while singing-a-long to Christmas Carols as they walk through Lynde House to see all that delights and enthralls of yesteryear. Volunteer Elves had been busy decorating Christmas all through the house with candles twinkling on every tree. Guests 'tiptoed' along the magic carpet that directs through the house, …Quiet now, Santa could be busy just in the next room having the milk and cookies left for him by an eager little boy or girl in hopes of stockings filled with treats. If you are not verrrrry quiet, he may just dash off into his sleigh just as you blink! "Now Pranzer, now Vixen…." Many visitors spotted our volunteer Santa during the evening. Thank you Diane Carson!
It's Christmas All Through the House… Saturday, Dec. 10th 11:00am-4:00pm Visitors were delighted as they toured through a magical Lynde House of yesteryear. Costumed volunteers provided interactivity in various rooms such as, cutting out cookies in the kitchen, wrapping the presents and setting the table. 'Mother Lynde' fussing, "Is everything ready?"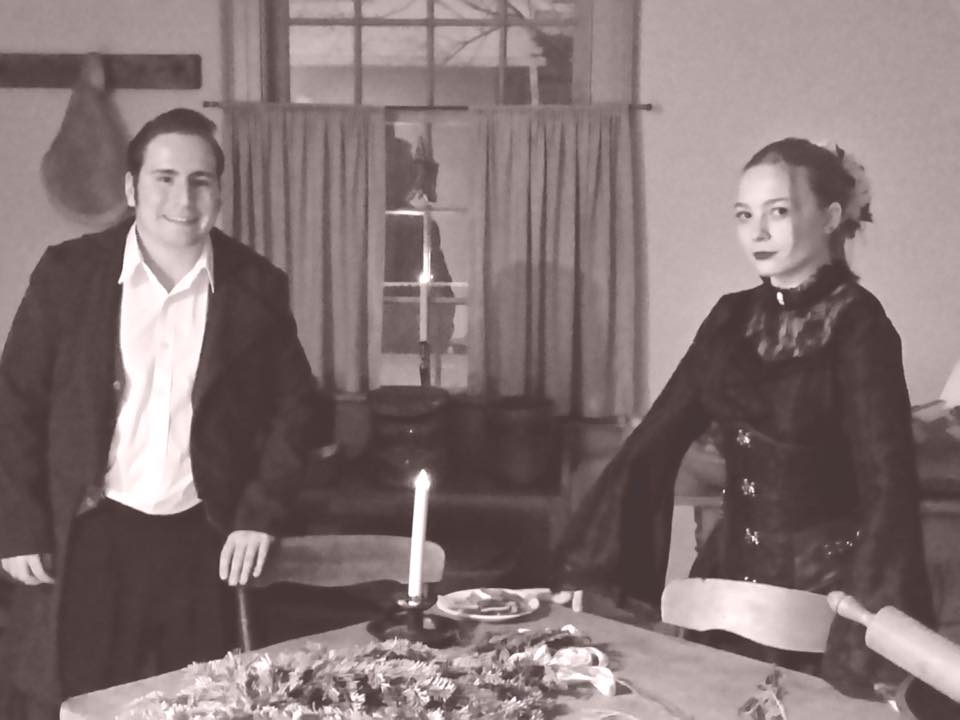 A Magical Evening - Friday, Dec. 16th – 7:00pm – until 9:00 in two tours.
"When all through the house, not a creature was stirring, not even a mouse."
We had a surprise mystery guest. Sarah Varty provided beautiful music for the evening.
Children's Family Christmas Tours and Crafts - Saturday, Dec. 17th
Family time at Lynde House. Parents and children were invited to take a guided tour through Lynde House and join in a craft at the Visitor Centre afterwards. Some painted gingerbread cookie decorations to take home. Guided Tours began at the Visitor Centre -11:00am, 1:00pm, 2:00pm and 3:00pm.
Many thanks to our great team of volunteers and staff for helping to make the magic happen this Christmas Season at Lynde House Museum!
Whitby Historical Society would also like to thank our Anonymous Donor through the Durham Community Foundation for their generous support this past two years. Your kindness is most appreciated!
Whitby Historical Society at Lynde House Museum wishes to thank Pickering Charitable Gaming Association Delta Pickering for funds to help Whitby Historical Society create a WOW Christmas this year!

Blog & photographs by: Trina Astor-Stewart